AEBR awards for cross-border cooperation projects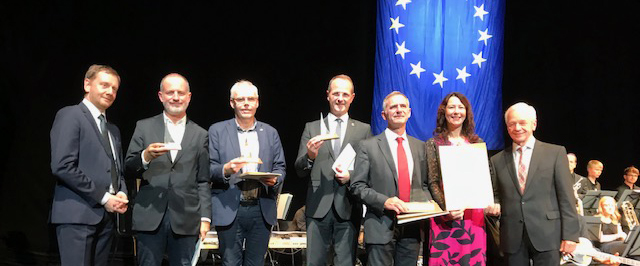 The "Sail of Papenburg" cross-border cooperation prize was awarded to the "Nortear" project at the Annual Meeting of the Association of European Border Regions (AEBR) held at the Elbe-Labe Euroregion in Dresden, Germany, on 25 October 2019. This project was presented by the EGTC (European Grouping for Territorial Cooperation) Galicia - Norte de Portugal.
Since 2002, AEBR carries forward the initiative of the Ems Dollart Region and bestows annually the Cross-Border Award "Sail of Papenburg", the only Europe-wide tendered prize for cooperation across national borders. The theme of the call for application for the award for 2019 was "cross-border culture, building trust across boundaries". Cross-border practitioners, local authorities and actors involved in cooperation implementing projects to foster culture in a cross-border context from all over Europe applied, demonstrating the vivid engagement shown by many actors to support ties between bordering regions through culture. This year, AEBR has received twenty applications.
Nortear is an initiative of the European Grouping of Territorial Cooperation (EGTC) Galicia - Norte de Portugal, which has allowed the joint management of policies and initiatives in the cultural sector, between the two regions of Spain and Portugal. The jury of the prize therefore valued it as a successful instrument for promoting exchanges between actors and local programmes. Since 2015 many events in the fields of dance, music and literature have taken place accross the Spanish-Portuguese border. Xosé Lago, director of the EGTC Galicia - Norte de Portugal, proudly received the award.
Projects from the Bothnian Arc Euroregion (Kemi-Tornio, Sweden - Oulu, Finland) and the Pyrenees Mediterranean Euroregion (Catalonia, Balearic Islands, Occitania) were also awarded.
The new president of AEBR, elected in Dresden, Ann-Sofie Backgren, and the Minister-President of Saxony, Michael Kretschmer, presented the prizes to the representatives of the winning regions.