Zicosur signs an agreement with the Organization of American States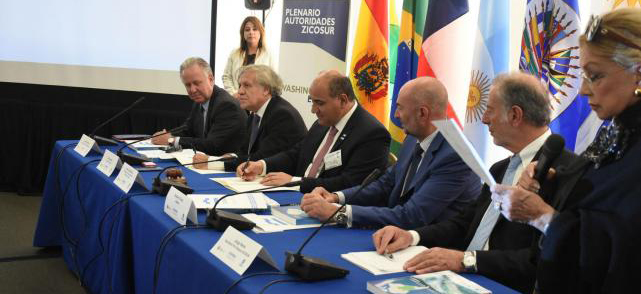 On September 18, 2019, a historic agreement was signed in Washington, United States, between the Central West Integration Zone of South America (Zicosur) and the Organization of American States (OAS) which, according to all parties, reinforces the institutionalism of those sub-national governments and should allow them to improve the competitiveness of their territories. Luis Almagro, signed on behalf of OAS in his capacity as secretary general. The governor Juan Manzur, president Pro Tempore of the Zicosur, represented Zicosur accompanied by representatives of 17 intermediate governments of Argentina, Brazil, Uruguay, Bolivia, Chile and Paraguay.
The agreement makes Zicosur a subject of international law and, with it, reinforces the foundational objective of seeking greater competitiveness of its territories and an increase in foreign trade with other international actors. Governor Mansur highlighted the opportunities that were opening up: "Under the auspices of the OAS, we subnational governments are now subject to international cooperation and we can participate in the exchange of knowledge and technologies, while at the same time operating better financially and economically".
The signing of the cooperation agreement was attended by notable figures such as the Argentine governors of Salta, Juan Manuel Urtubey; the vice-governor of Santiago del Estero, José Emilio Neder; the elected governor of the province of Misiones, Oscar Herrera Ahuad; and the secretary of International Relations of Misiones, Patricio Lombardi. Representing the Republic of Bolivia, the governor of Tarija, Adrián Oliva Alcázar; the secretary of Codesul, Paraná (Brazil), Wilson Quinteiro; and the regional mayor of Antofagasta (Chile), Marco Antonio Díaz Solís.