CONGOPE reiterates its commitment to the internationalisation of Ecuador's provinces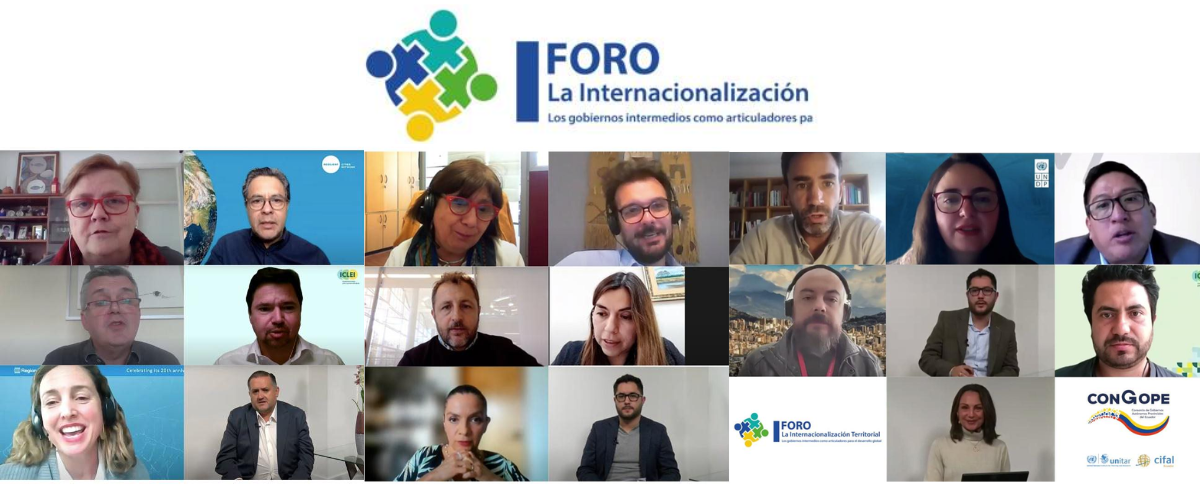 On March 28th and 29th , the Consortium of Provincial Governments of Ecuador (CONGOPE) held---in a virtual format and with guests from different countries---the TERRITORIAL INTERNATIONALISATION FORUM "Intermediate governments as articulators for global development", in which it reiterated its commitment to continue its participation in the debates on the global agenda. The Forum was attended by authorities from outgoing and incoming Provincial Prefectures elected from the 23 provinces, as well as their International Cooperation teams. The participation of representatives of the national government as speakers and attendees was also notable, with the Ministry of Foreign Affairs and Human Mobility (MREMH) organising the event.
At the Forum, all the speakers started from the observation that development cooperation had undergone a change since 2008, following the successive crises. In one of the keynote speeches, Eugene Zapata, director of a programme of the Tinker Foundation and recognised cooperation expert, was very clear in this sense: "the donor-recipient dynamic of the past is definitely a thing of the past. Now cooperation can have a technical character and is based on the exchange of good practices". In this logic, many of the speakers spoke of south-south and triangular cooperation.
CONGOPE was aligned with this vision. Its president, Pablo Jurado, put it this way: "We have been proposing a paradigm shift with respect to the management of international affairs by Ecuador's provincial governments. For a long time, this management has focused on attracting development cooperation resources, and should transcend it and influence the debates on the international agenda, where greater appropriation is required at sub-national levels, to bring the world closer to our territories and vice versa, within the framework of the advantages and challenges of globalisation". He added: "Our experience as an institution that represents the voice of Provincial Governments has spread beyond national borders, we have been able to discuss decentralisation, integral territorial development, among other issues of global concern; we have discussed them in international platforms of sub-national governments, in the United Nations system, in regional integration bodies, among other spaces. We have been able to lead networks of Intermediate Governments at regional and global level; we have been key actors in world summits and we have generated alliances with international partners for the management of development initiatives".
There was also a strong consensus on the importance of regional (provincial in Ecuador) governments participating in all international spaces for dialogue. Eugene Zapata, with a rich experience working in city networks, affirmed that international networks are the appropriate mechanism for internationalisation. Based on this statement, Carles Llorens, Secretary General of ORU Fogar, pointed out the possibilities of setting up joint projects by working in networks and taking advantage of synergies within international organisations. Rodrigo Perpetuo, representing ICLEI, spoke of the possibilities of public-private collaboration, with the contribution of companies.