Elections for the Presidency and Bureau in Cordoba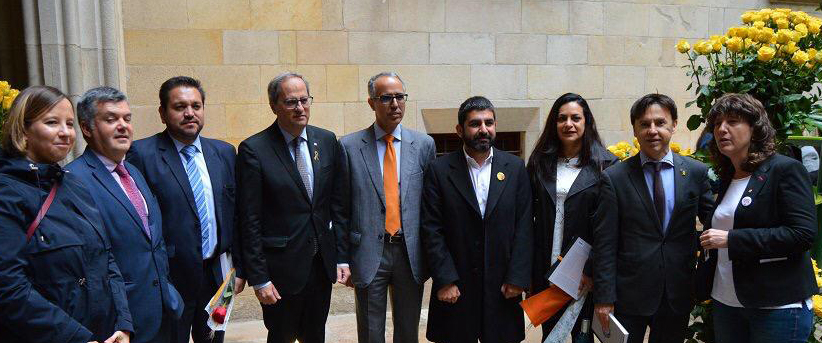 ORU Fogar' Bureau, meeting for the second time in Barcelona last 23rd and 24th April, validated the call for joint elections of president and Bureau during the assembly of the organization to be held on December 1st in Cordoba, within the framework of the V Forum on Local Economic Development to be held in that Argentine province. It was also agreed to discuss and approve the organisation's Strategic Plan for 2020-2030 in Cordoba. 
The meeting was preceded by the participation of the members of the Bureau, headed by President Sekkal, in the Saint George's Day celebration of books and roses. Thus, the members of the ORU Fogar Bureau, coming from regions of Spain, France, Morocco, Senegal, Ecuador and Paraguay, were received at the Palau de la Generalitat by the Catalan President, Quim Torra, during the blessing of roses.
On the 24th, the Bureau prepared the regional participation in the next major events of the Global Agenda. On the horizon, the preparation of two major events. The first one, the High-Level Political Forum on Sustainable Development of the United Nations that will be held in July in New York, where the fulfilment of the SDG will be evaluated at a global level and where ORU Fogar will provide the regional and territorial vision. And the second, the aforementioned V Local Development Forum to be held in December in Cordoba, Argentina, a framework that should also host the annual meeting of ORU Fogar. 
The Bureau also approved the collaboration agreement with the China Friendship Foundation for Peace and Development, which should allow the approximation and collaboration of the Chinese provinces in the network. The agreement will be signed by President Sekkal in September in Hong Kong, during the Philanthropy Congress organised by the aforementioned Chinese foundation. 
Rui Becancourt, Secretary General for External Relations of the Autonomous Province of the Açores, was finally invited to the Bureau meeting and presented the Portuguese island as a candidate to organise the Bureau for the first part of 2020. The proposal was approved.